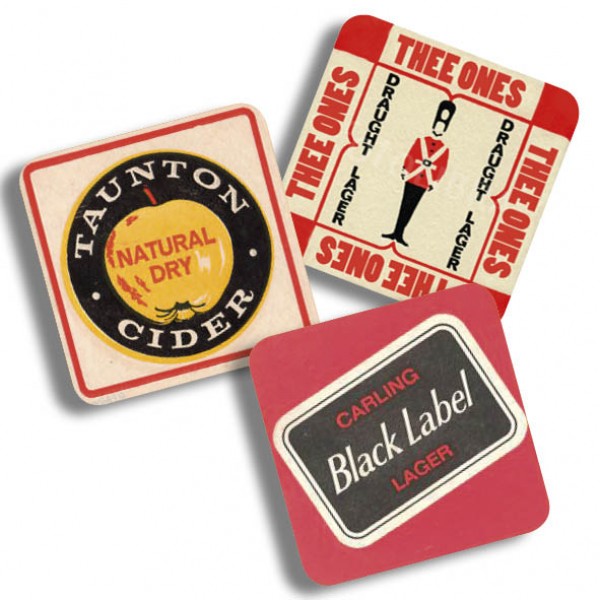 Why advertise using personalised beer mats?
Pubs are a national institution, and by advertising in pubs, you'll be putting your brand front and centre in the eyes of thousands of customers every week. Whether someone's popping in for a quick pint after work, they're watching the football, or they're simply going there to relax and unwind, there's no doubt that pubs form a part of most people's social calendar, and advertising on beer mats allows you to communicate with them directly.
Beer mat advertising
One of the biggest benefits that comes from advertising on beer mats is the long dwell time as well as the opportunity to reach your target market whilst they're in a relaxed and receptive frame of mind. It's important to remember that beer mats are tactile and versatile. Thanks to beer mat printing, you can personalise the visuals of a beer mat so that it forms part of your brand image. Ultimately, it gives you an opportunity to put your message in front of consumers whilst they have time on their hands.
Beer mats allow you to expand the conversation
Advertising on beer mats also allows you to start a conversation with consumers. Although many think beer mats are a more traditional form of advertising, they actually allow you to take a conversation online. A web address or QR code printed on a beer mat will encourage consumers, who usually have their phones to hand or on the table, to look up your brand online, giving you a chance to drive further engagement. You can also raise the profile of a social media campaign or competition you are running.
Personalised beer mats provide exclusive advertising positions
A personalised beer mat placed in the right bar could end up giving you a serious advantage over your competitors. Typically within bars and pubs there is little advertising beyond beverages, and beer mats are in constant use by the customers from the time the pub opens its doors to last orders. It's important to remember that beer mats can also be taken away by customers, meaning your brand promotion doesn't necessarily begin and end at the pub doors. You're also reaching an entirely adult audience, and can target specific demographics depending on the type of establishment you choose, meaning you won't be spending time and resources trying to communicate with people who don't necessarily have the resources to purchase your products or services.
To help you on your way towards a successful beer mat advertising campaign, we offer a full beer mat printing service. Simply upload your design, or alternatively, we can help you with the artwork, and you'll soon be communicating with your target market.
N&P Print
We are a digital printers in Stroud, Gloucestershire, offering a complete range of online printing services. We produce a wide range of leaflets, flyers, stationery products and books. The Management team has over 50 years experience in all aspects of design and print.
For more information on our complete printing services please contact us.