Artwork Guide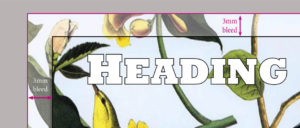 Our preferred file format is: .pdf 
But we can also accept: .ai .psd .tif (.tiff) or .jpg
Colours are printed in CMYK 
PDF's
Your artwork file needs to be supplied as a 'print ready' PDF with all fonts embedded.
If your artwork is for a multi page document the PDF will need to contain all the pages in order from front cover to back cover, including any blank pages.
If your artwork is for a Perfect Bound Book the cover can be sent as a separate file or the 'Spine' can be sent as a new PDF (contact us when your order is placed and we can calculate your spine size if needed).
We can print from other file types but this can slow down the Email Proof and delay the Turnaround Time. 
BLEEDS
All artwork files need to be sent with 3mm bleeds added.
For info on 'Printers Bleeds' see –
http://en.wikipedia.org/wiki/Bleed_(printing)
COLOUR
All colours are printed in CMYK.
The CMYK colour model is the most commonly used in colour system in the digital and litho printing process. 
CMYK refers to the four inks or toners used: C = cyan  M = magenta  Y = yellow K = Black
We no not produce or match RGB colours (used in creating colours on computer monitors and phones) or Pantone Spot Colours.
Since RGB and CMYK are both device-dependent colour systems, there is no simple or general conversion formula that converts between them. Conversions are generally done through colour management systems, using colour profiles that calculate differences between them. Nevertheless, the conversions cannot be exact, particularly where these are large differences between colour ranges i.e. bright oranges, greens and Day-Glo colours.
To avoid disappointment in reproducing the colours in your files we advise all clients to design in CMYK not RGB and make sure all images and logos are covered to CMYK before being used in the design process.
Order online in
3 easy steps