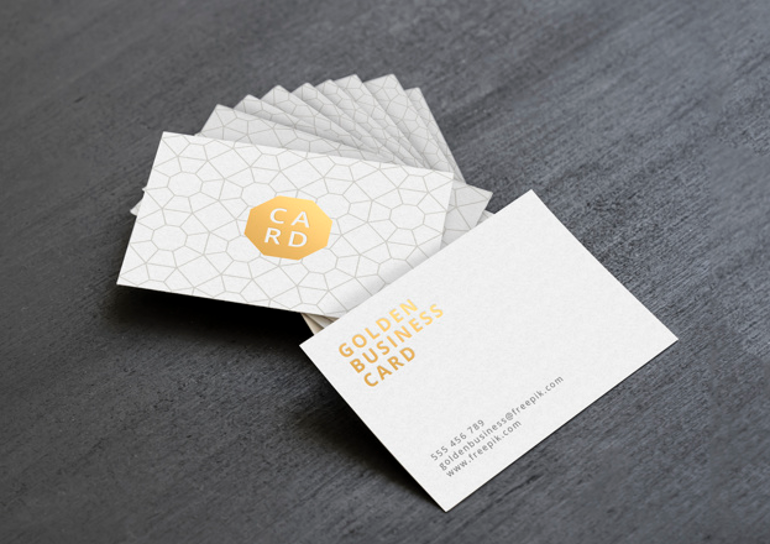 Top tips for creating the best business card design
It's surprising to find that fewer people are appreciating the usefulness of business cards in the modern working world. Perhaps they presume they are outdated due to modern technological advancements and easier ways to link up online. But they would be wrong, as developing real connections with people still happens in person; the real problem lies in how some people are choosing to design their cards. We live in a time where graphic design is available to the masses and it's easier than ever to create a stunning business card that people will remember and want to hang on to. So, to help you bring back the power of the business card for your company, here are our top tips for creating the best business card design.
Business Card Design: Be simplistic
Once you've thought of a way to make your card stand out, you then need to decide what absolutely must be on the card. Try to stick to your name, company logo and contact information. As mentioned, everything else about you can be found online, and your card needs to be simplistic yet attractive and place you in the prospect's mind.
Best Business Cards: Make it unique some way
As mentioned, much of your professional information can now be found online at sites such as LinkedIn, and for this reason, your business card doesn't need to describe too much about you. Instead, it should be thought of as a marketing tool to help people remember you and have you stand out in their mind. The best initial way to do this is by making your card stand out in some unique way. This can be done using a number of different methods such as making the orientation vertical, using double thick card, design a larger or smaller card, use letter pressing, or even go so far as to use a different material.
Business Card Ideas: Make it timeless
You never know when someone will want to use your services, so keep your business fresh by making it timeless. This means avoiding any flash sale deals, coupons, taglines or ad slogans. Your business might make strategic turns a few months down the line which makes your card outdated, instead just stick to what absolutely must be on there.
Business Card Size: Make use of both sides
When it comes to purchasing new company business cards, many people choose to make savings by only printing on one side. However, for the sake of the marginal added expense, double sided business cards are much more professional and allow you to take advantage of twice as much print. You could have one side dedicated entirely to your company logo, and the other side with your name and contact details. Stunning design work on one side, complemented by simplistic and clean details on the other.
Perhaps during this process, you want to speak to a professional about helping make your ideas a reality by creating a finished piece of artwork that can then be uploaded to your business cards. Then, the next crucial step is finding a business card printer who is able to make your design come to life.
---
N&P Print
We are a digital printers in Stroud, Gloucestershire, offering a complete range of online printing services. We produce a wide range of leaflets, flyers, stationery products and books. The Management team has over 50 years experience in all aspects of design and print.
For more information on our complete printing services please contact us.